The FZE congratulates the Transmare team led by Prof. Dr. Schäfer, all employees and all cooperation partners on the launching ceremony of the first reconstruction of a Roman merchant ship called "Bissula" on the 5 July 2019!
An exciting research project that was celabrated in a very successful event!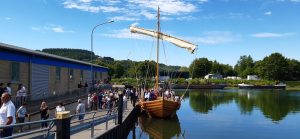 Further information on the project as well as the official press release can be found on the website of Trier University.